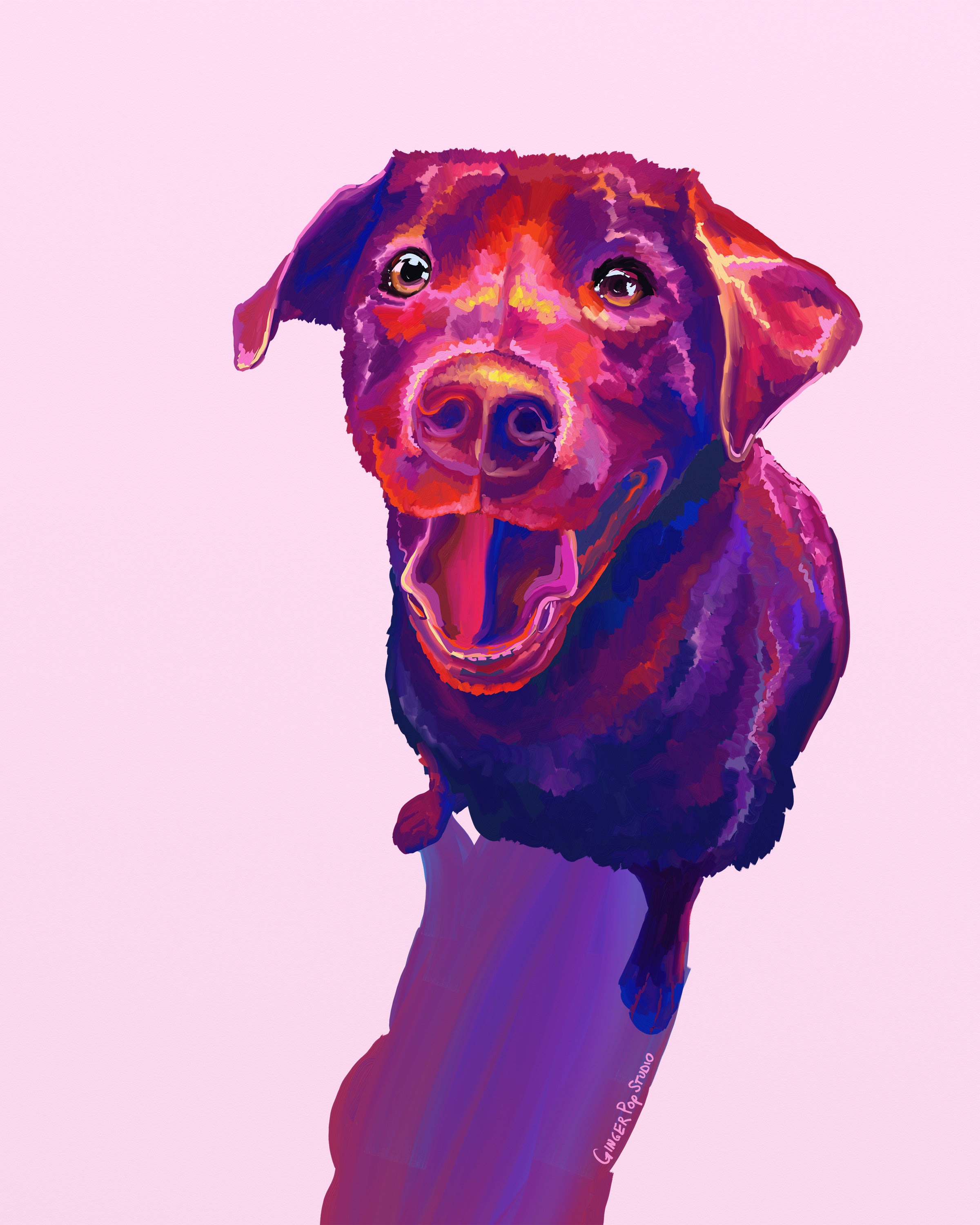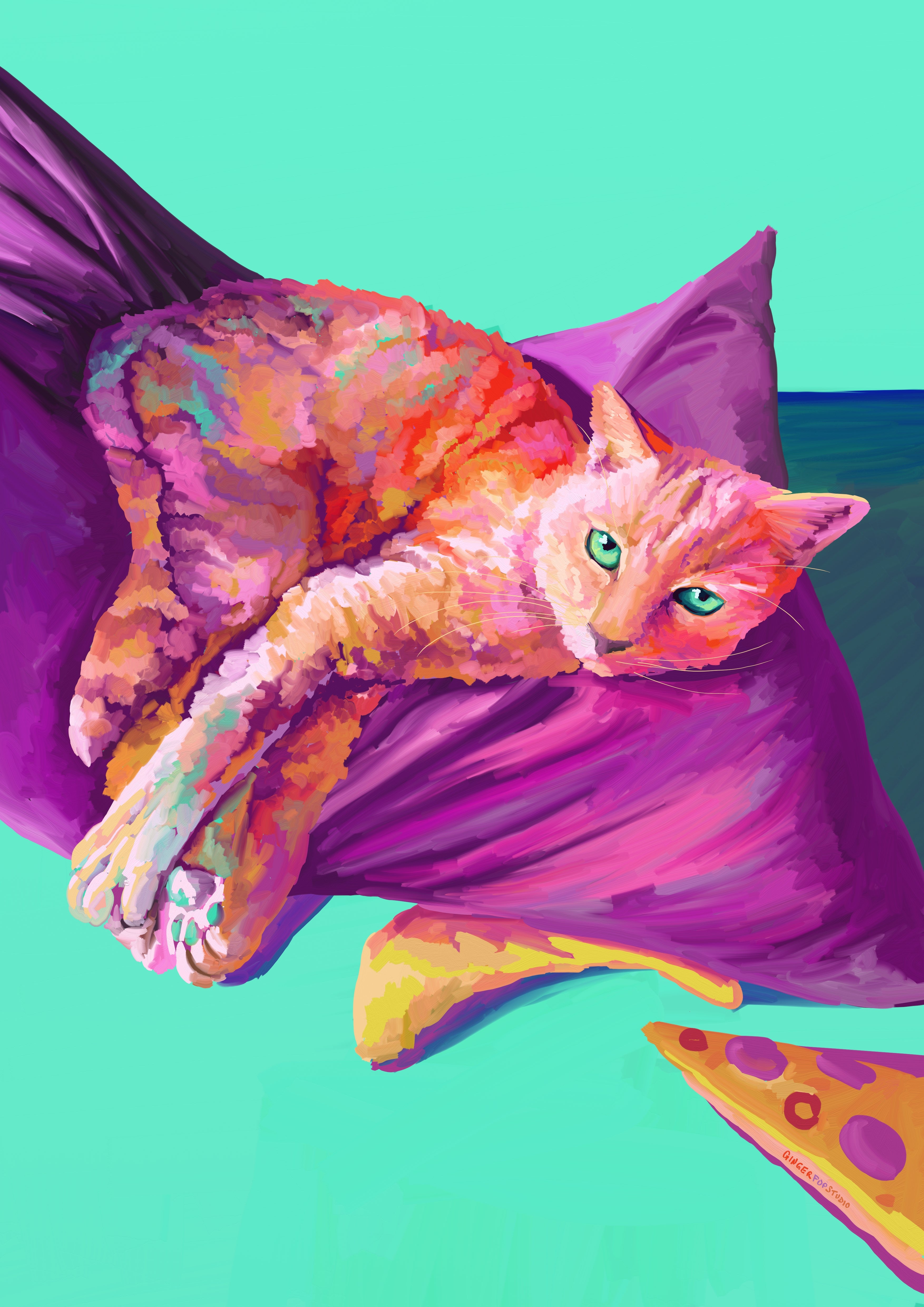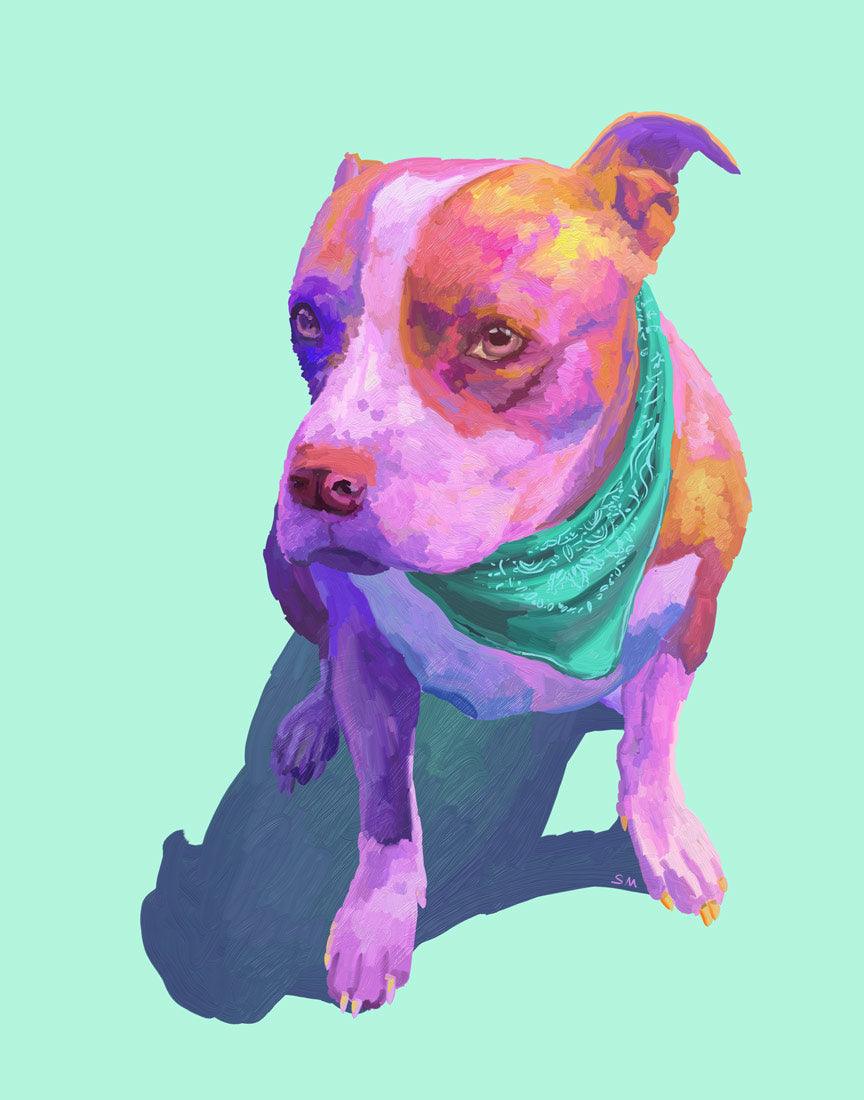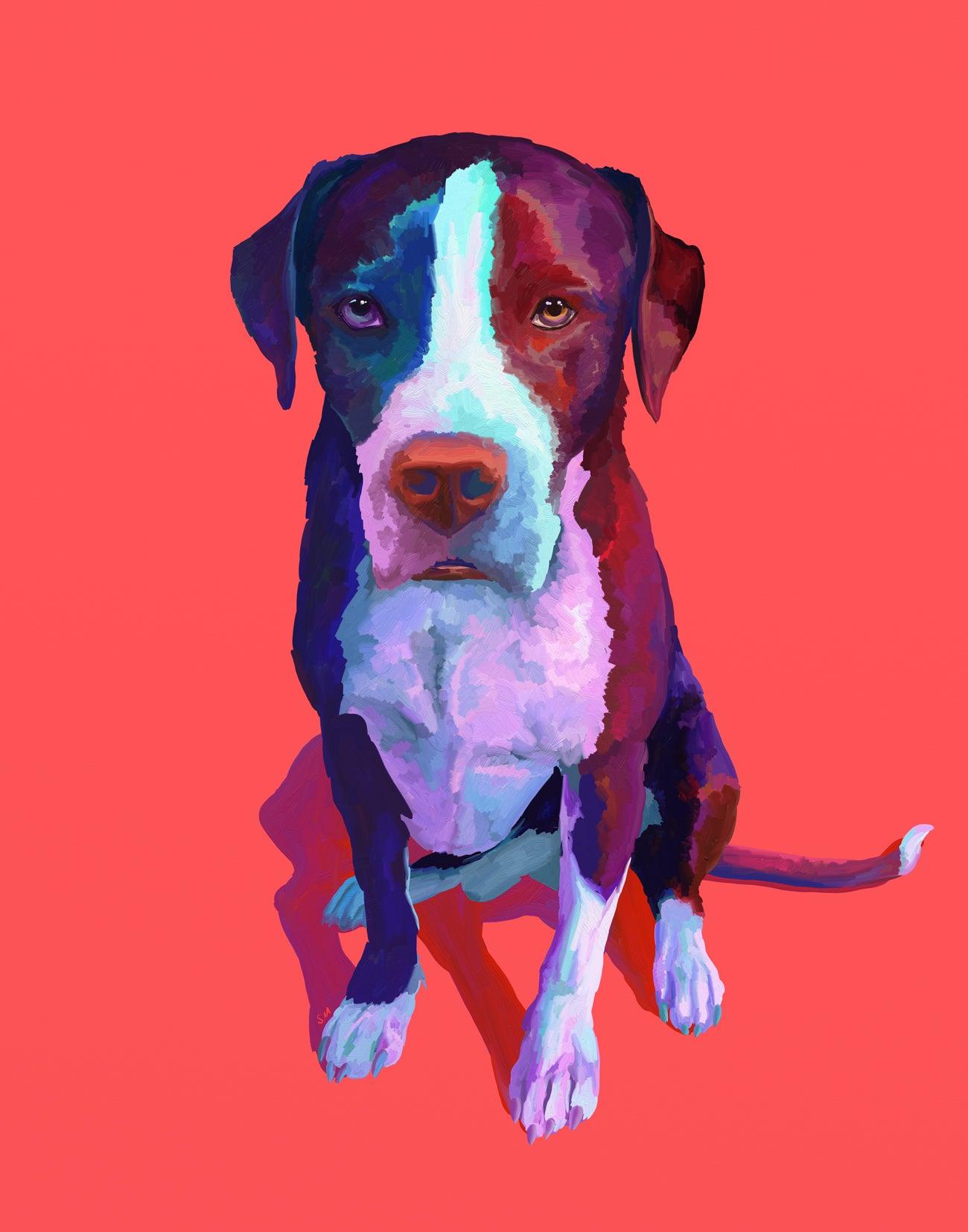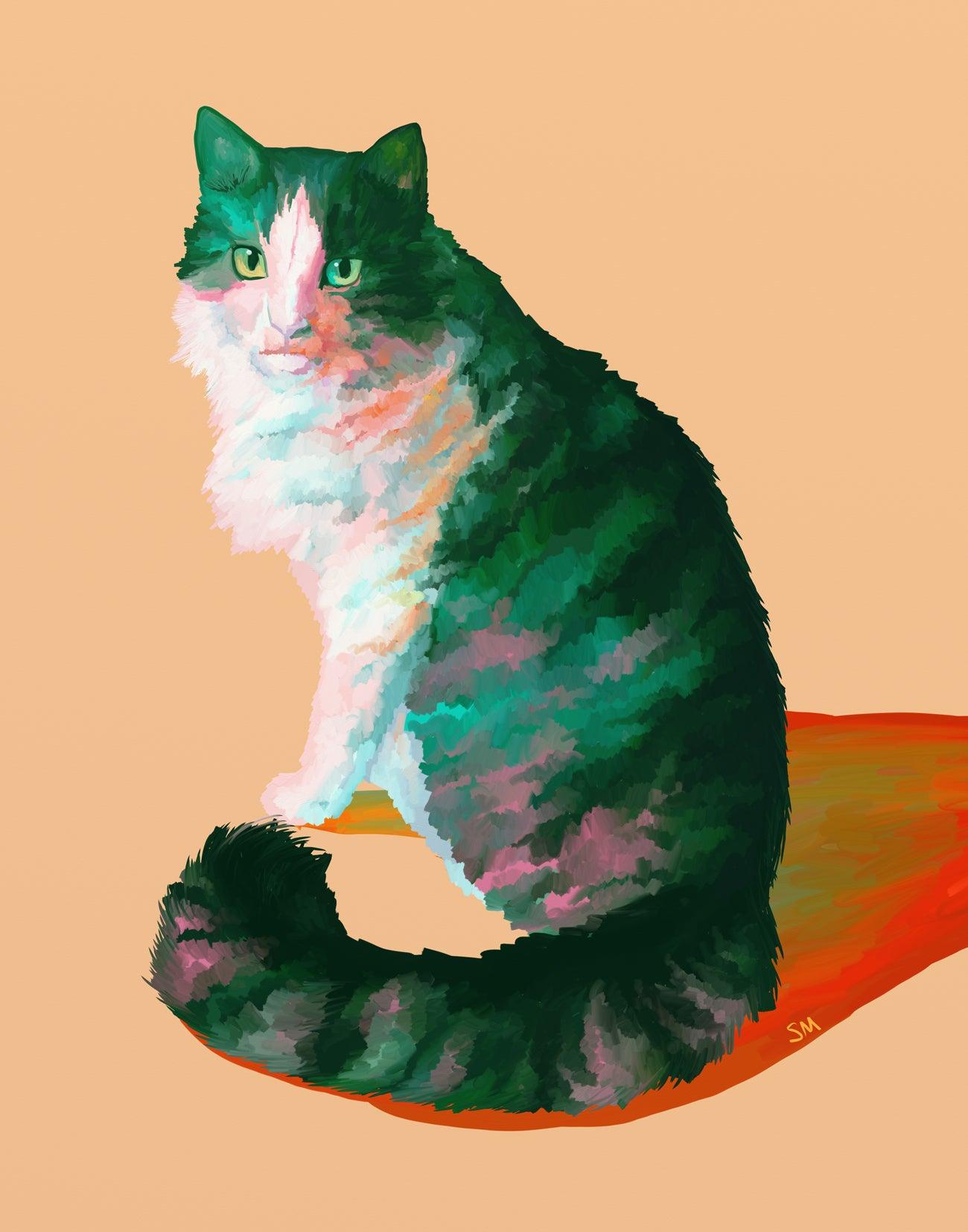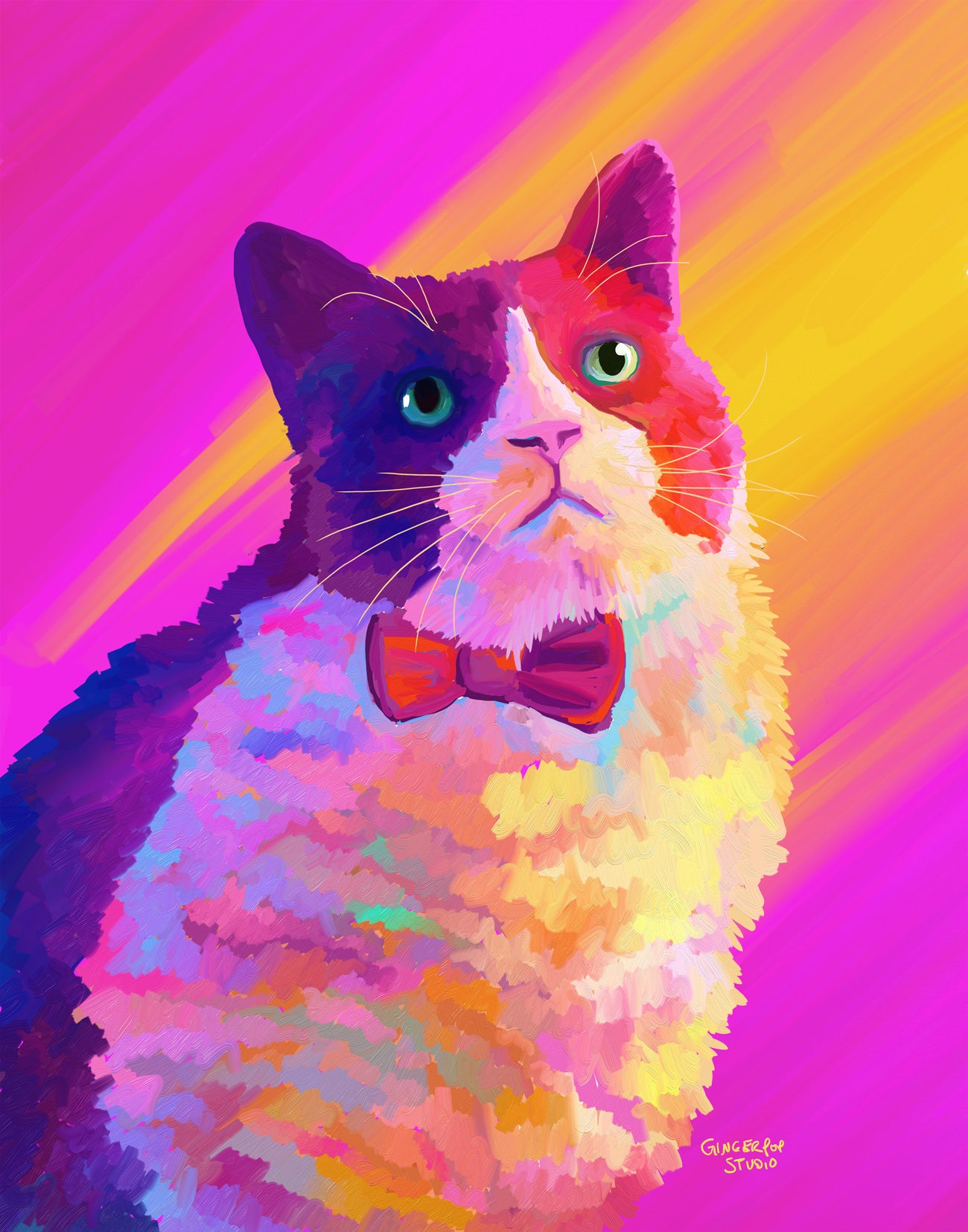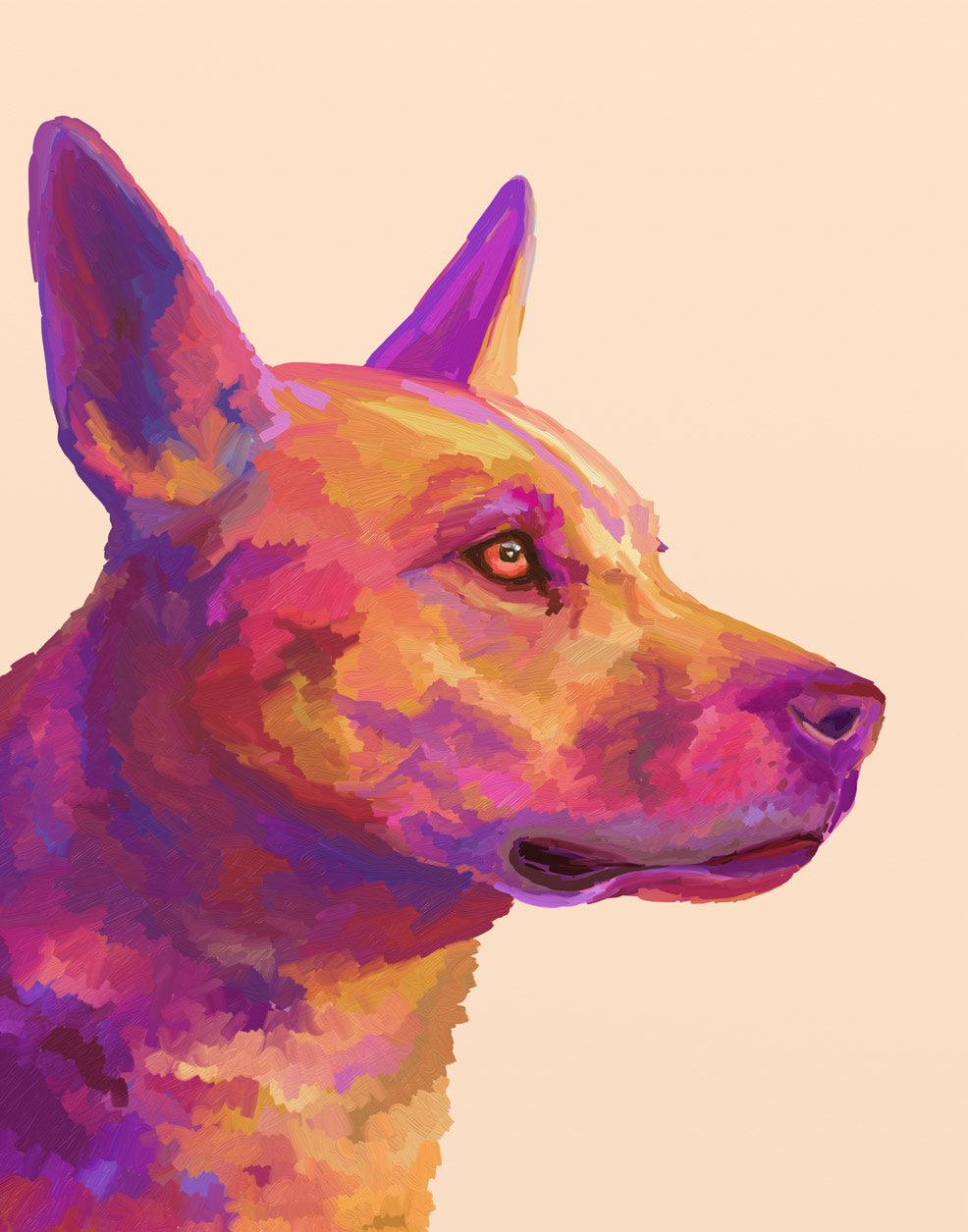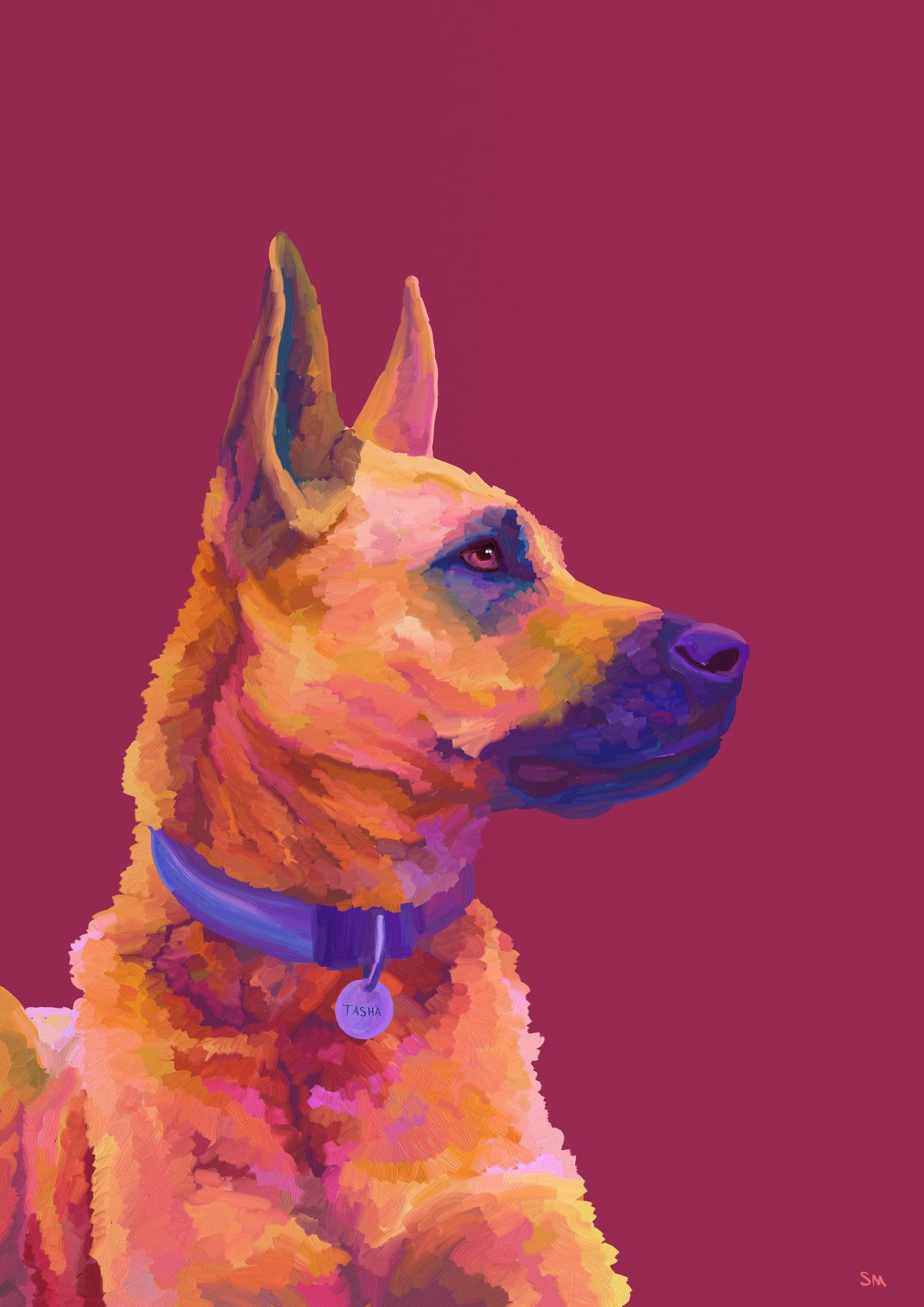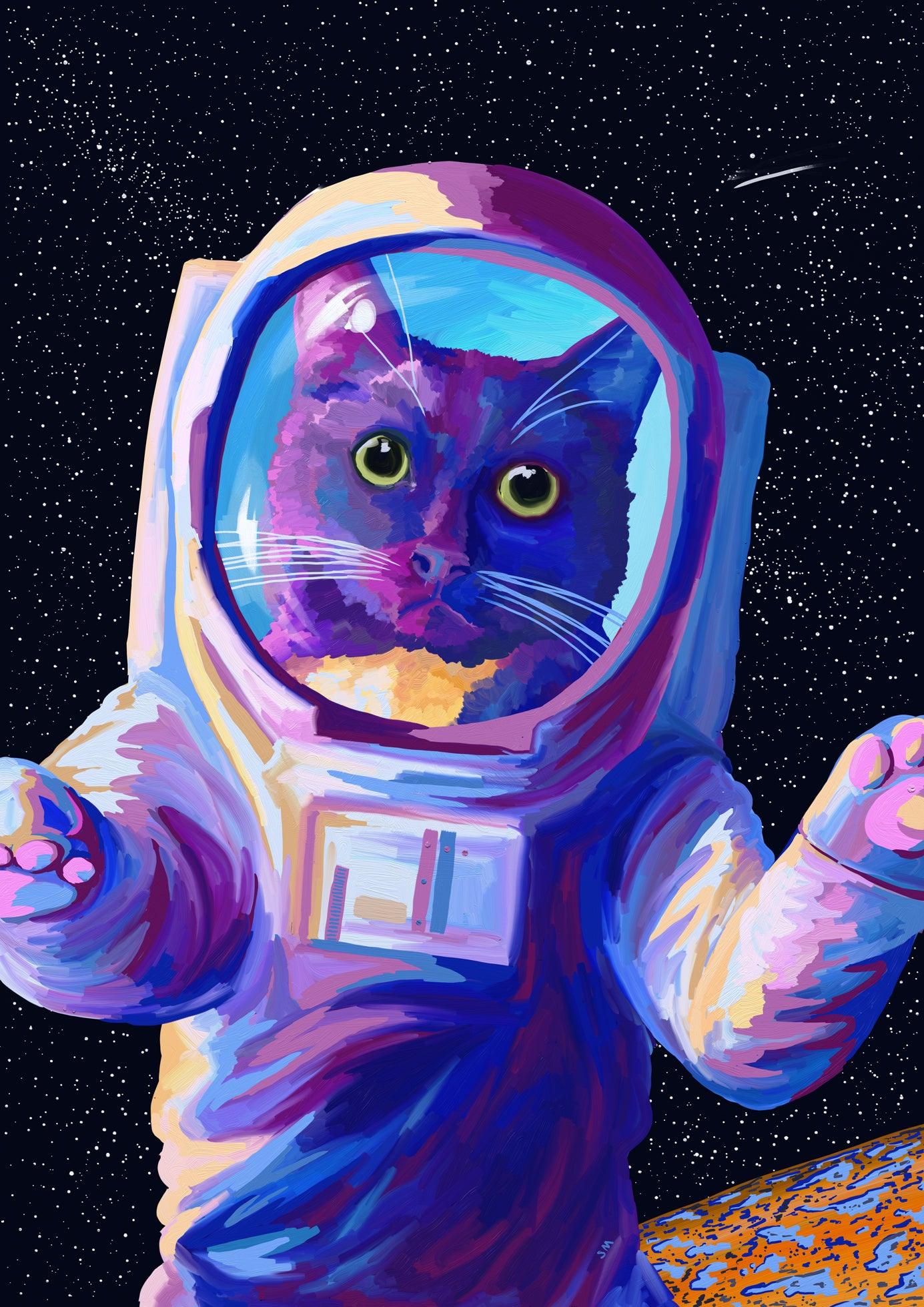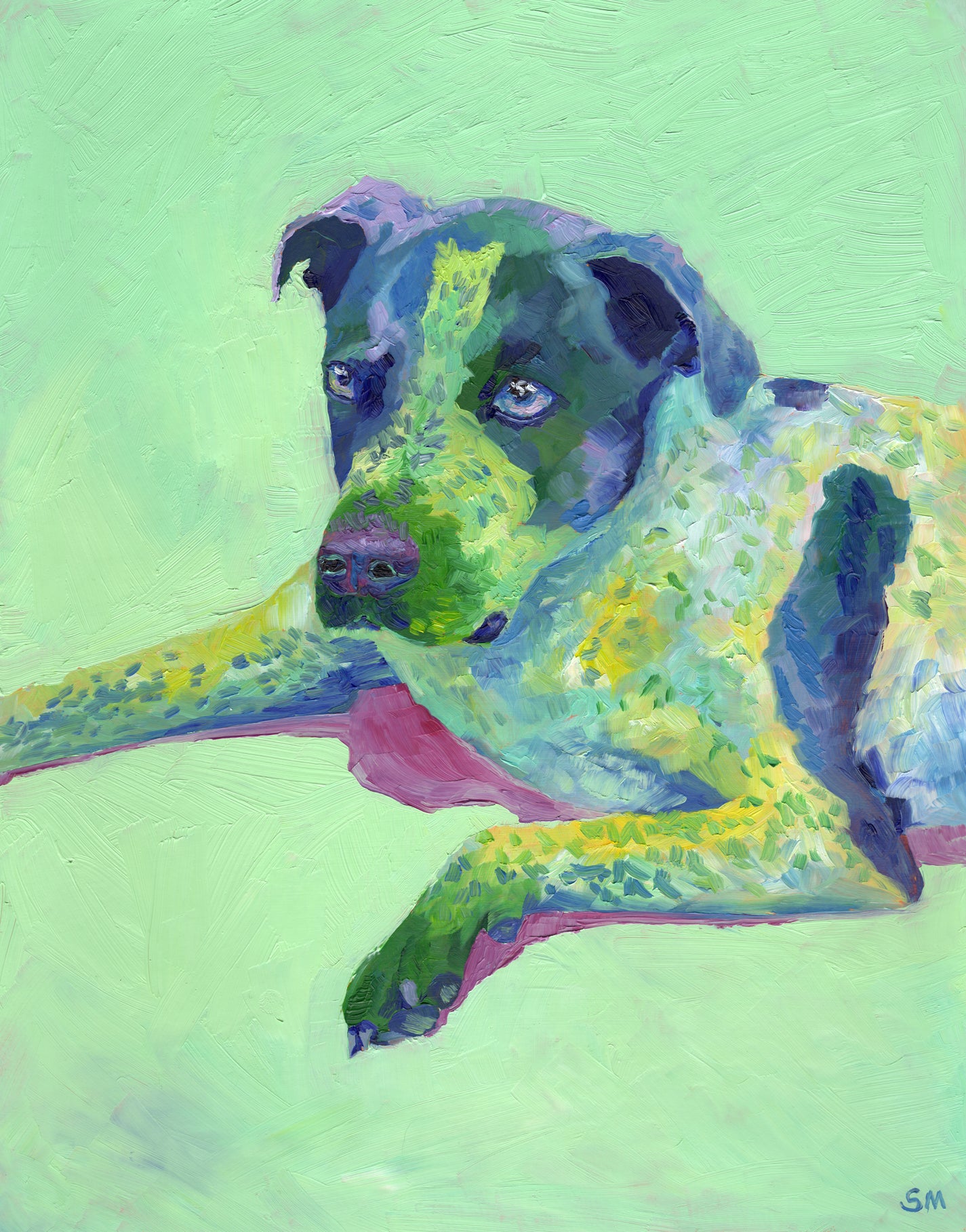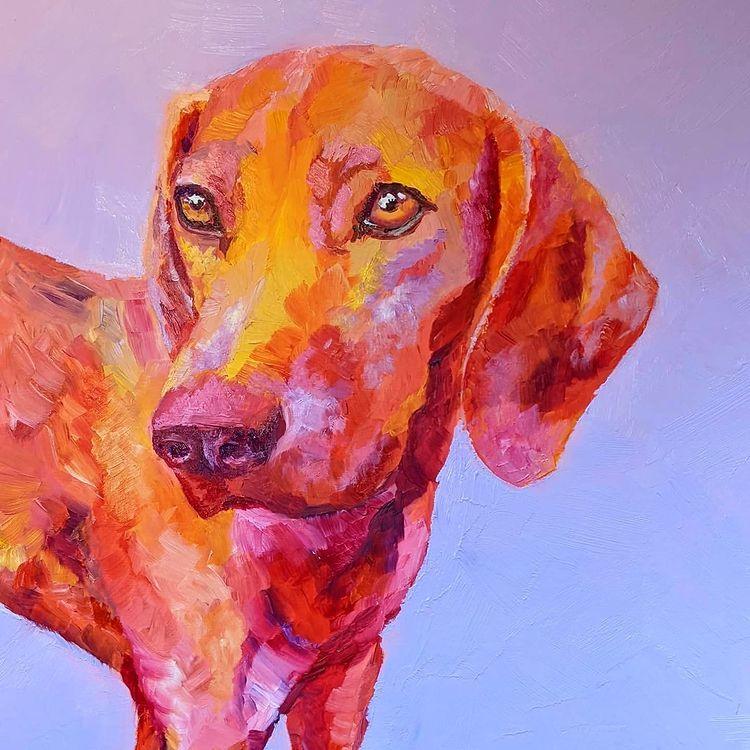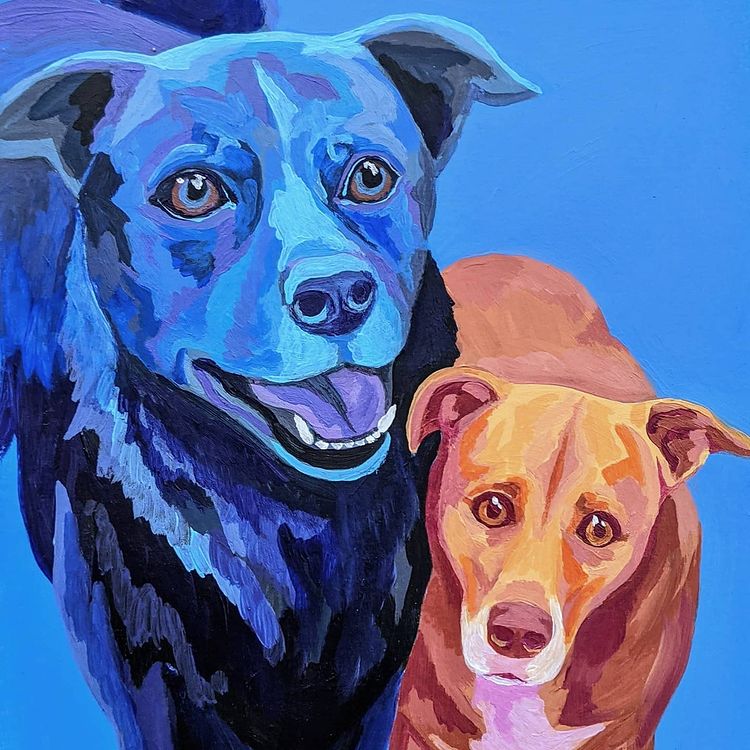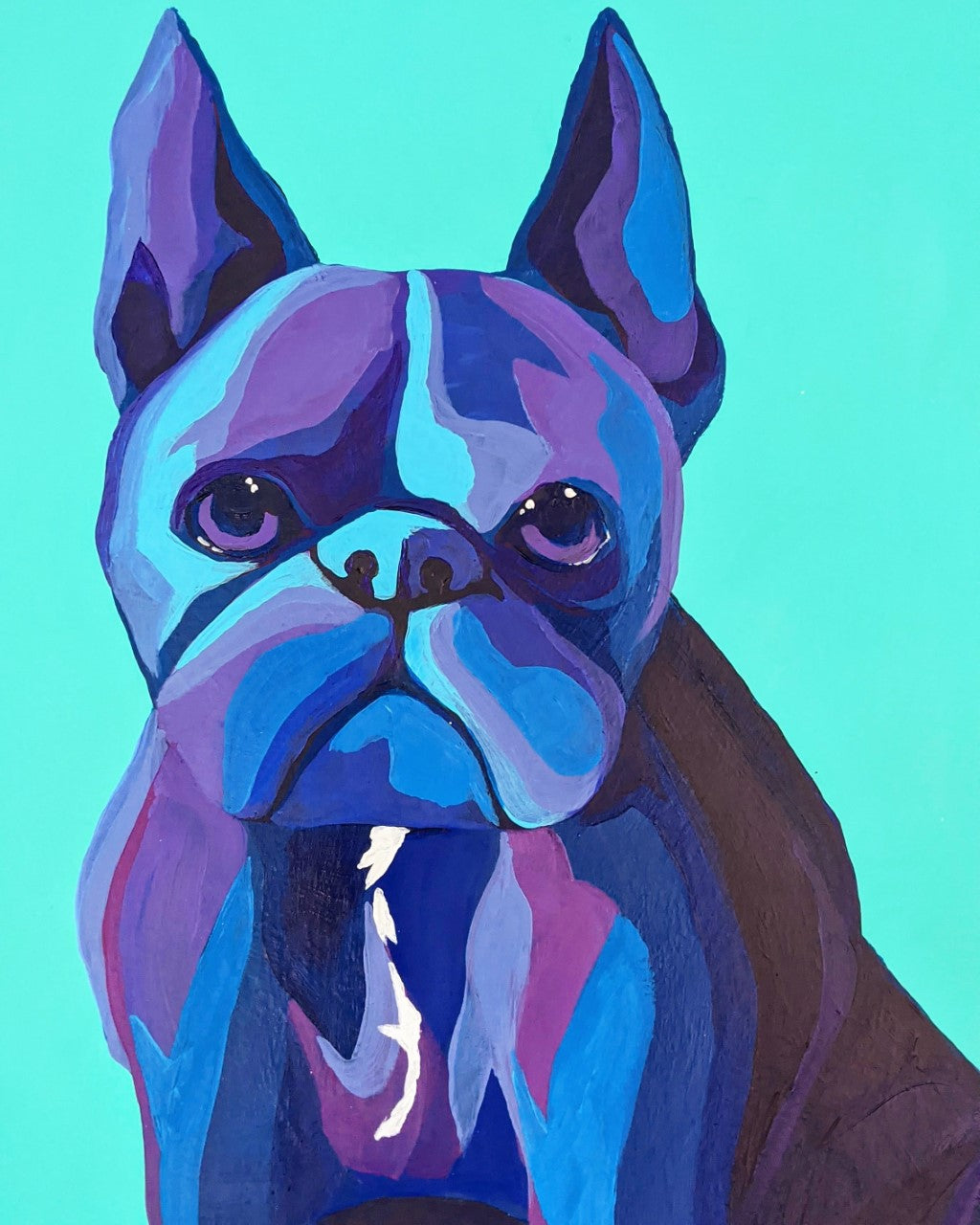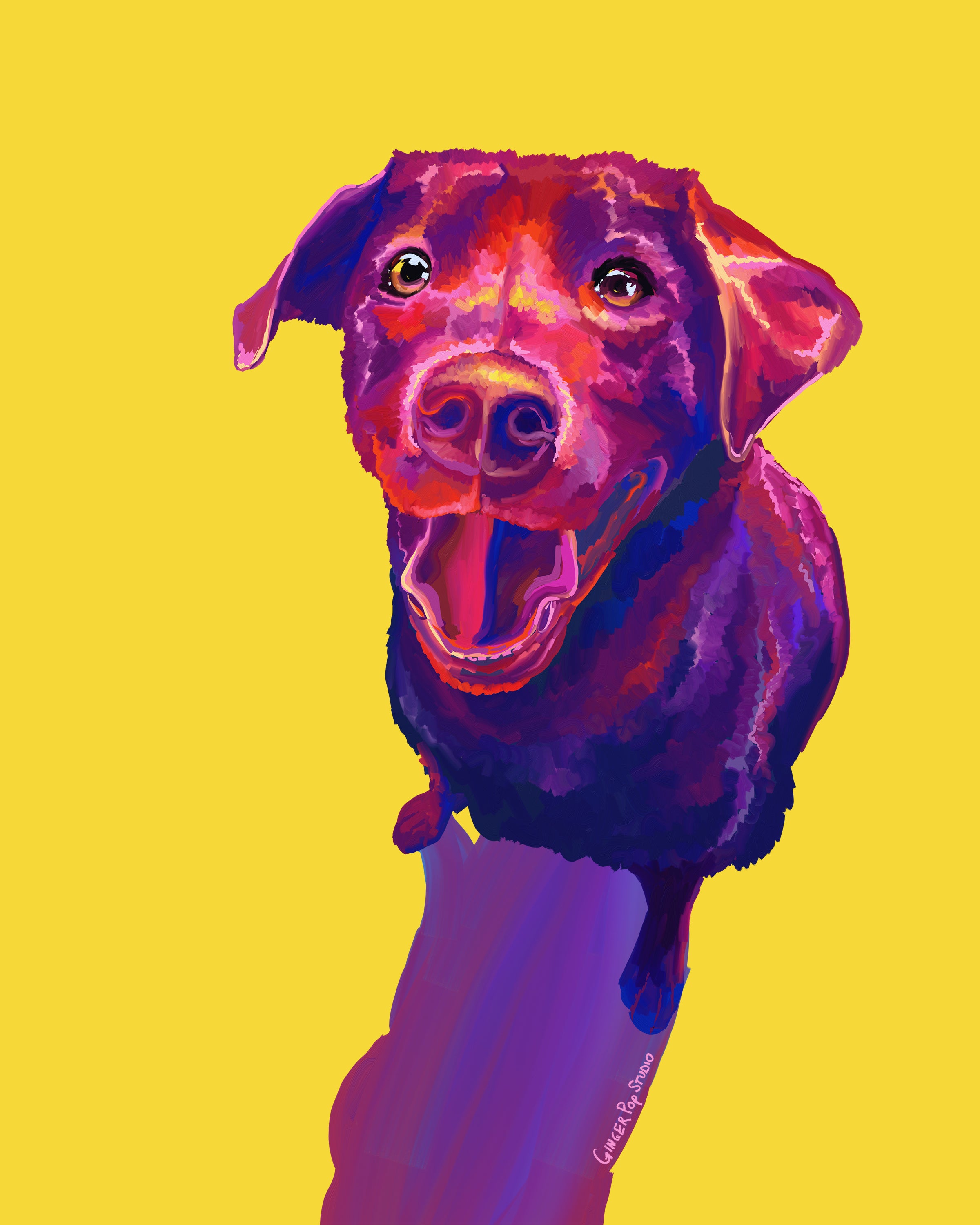 Custom Pet Portrait
Looking to have your furbaby (or someone else's) captured in a colorful portrait? Look no further! The process is simple: send me your favorite photo, select size/medium, and I'll get to work! Turn around time on the Oil Paintings is generally 3-6 weeks. For Digital Oil Paintings, turn around time is typically 7-14 days. Why the difference in price and turn around time you ask? Digital painting is a much faster medium because I don't have wait for individual color layers to physically dry! 

18"x24" Oil Painting on Canvas, includes hanger (1.5" deep edge, painted edges for finishing) Larger options available - Please contact me.  

11"x14" Oil Painting on Canvas paper

11"x14" Digital Oil Painting, printed on 60lb River Linen Paper

 8"x10" Digital Oil Painting, printed on 60lb River Linen Paper

I prefer to work directly off of the reference image given, so a nice clear photo in the pose you want is ideal (worst case scenario - I can use a few reference photos to create the pose, but then some things can get lost in translation). If you have a few pictures that you can't choose between, feel free to send multiples and I can help pick based on the lighting and pose that would present best in a painting.

Additionally, please note a general color palette(s) desired for each piece (otherwise it will probably end up pink and yellow, haha) can be as descriptive as you'd like: "Reds, oranges, and turquoises" or "match this photo of my couch/throw pillows, and wall colors with similar accents" Or as simple as "warm colors" 🙂 Also feel free to mention "no pink" or colors you really don't want.
This product is rated 5.0 of 5.0 stars.
It has received 7 reviews.
It came out even better than we expected. Sarah does absolutely wonderful work bringing the animals to life. I will cherish my photo of Moo of many years to come!!
Fantastic!
Sarah did an awesome job. She was very quick and easy to work with. My wife love the piece!
CRUSHED IT!
Absolutely nailed the reference photo we sent in with her unique pallet and style. Great, timely communication asking for extra details like where it might be hung, so the pictures pallet complements the room. Frame was also quality. Highly recommended!
Those Eyes!
Sarah's creativity not only brought Hazel and Barky to life, but also tears to my daughters' eyes when they received their one-of-a-kind paintings at Christmas. As an artist, Sarah innately captured the essence of Barky's "gooberness" and sparkle in his eyes. Hazel's personality popped through the joyful color palette and attention to detail in her bandana and soulful eyes. Did you notice her toenails?! It was wonderful collaborating with Sarah, and I can't wait to return for more!
Perfect Gift!!
After buying a few prints at a local brewery, I was excited to learn Sarah does custom pet portraits. I had an idea for a Christmas gift and Sarah was enthusiastic, communicative, and timely in making it happen. It turned out perfectly and she went above and beyond to make sure the gift got to us for Christmas. Already looking forward to next time!
Easy Peasy
Step 1
Choose Your Favorite Prints
Go bold! Go big! Add all your favorite prints to the cart and place your order!
Step 2
We'll Pack 'Em Up!
Our studio fairies will get your order packed up ASAP and dropped off with our trusted shipping partner: the USPS!
Step 3
Yay, Delivery Day!
The best part: receive your order and pick the perfect place to display your new art to make all your friends jealous.
What type of paper are the prints on?

We use one of two different types of paper for our prints: 60lb Polar Matte or 60lb River Linen. Both of these papers are acid-free, high-performance papers for bright colors and deep blacks. The print subject matter dictates which paper is used - art with more dark tones prints best on the 60lb Polar Matte. Art with brighter and lighter tones is best paired with the 60lb River Linen.
How long will it take to get my order?

It depends on where you are. Orders processed here will take 5-7 business days to arrive. Delivery details will be provided in your confirmation email.
Do the art prints come with matting or frames?

No, our prints do not come with matting or frames - but they do come in standard sizes that are easy to purchase frames & matting for!
What if the art doesn't match the color scheme I was going for?

We are happy to exchange the art for another piece if you'd like to try out a different one! We will ask that you pay for shipping of the old one back to us in its original packaging and then we will send you the new one.
What if my product arrives damaged?

We are happy to replace any damaged goods! Simply snap a few photos of the damage incurred during transit and then fill out our contact form so we can follow up and get it sorted out ASAP. We will ask that you send the photos during our email conversation.
I see the initials "SM" on the art, what is that?

"SM" are the artist's initials, it's her small signature added somewhere into every piece of art :)
You can contact us through our contact page! We will be happy to assist you.
Our customer support is available via email Monday to Friday: 8am-8:30pm.
Average answer time: 24h
I Have Another Question